Exercise at Home without Equipment to Lose Weight
Sep 15, 2021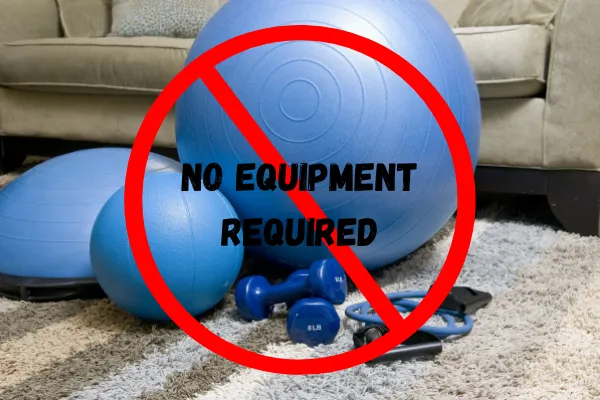 AS AN AMAZON ASSOCIATE I EARN FROM QUALIFYING PURCHASES.
THIS POST MAY CONTAIN AFFILIATE LINKS, WHICH MEANS WE MAY RECEIVE A COMMISSION, AT NO COST TO YOU, IF YOU MAKE A PURCHASE THROUGH A LINK. PLEASE READ MY FULL DISCLAIMER FOR MORE INFO.
If you have been following my weight loss journey here on my blog, you know I've been trying to get in shape. I don't want to go to the gym, in fact I canceled my gym membership. Most gyms were closed due to COVID anyway.
I finally decided to stop being a couch potato. I sit all day at my desk job then sit all evening on the couch.
A little history, I started Metabolic Factor back in September, with great weight loss results, but I needed to tone up. Next came Metabolic Renewal, which included an exercise program. I could not even do a push-up from my knees! I did push-ups against the wall while standing up. I got stronger and was able to do most exercises as the program progressed.
But I wanted more, more toning and more strength training…
So I found V Shred Toned in 90 Days. Whew, This was definitely a step up from Metabolic Renewal exercises!
Home Workouts for Women
Toned in 90 Day consists of 3 circuits of exercises. The first and second circuits have 3 exercises, you do as many reps as you can for 30 seconds each exercise. Then rest for 1 minute between each circuit and complete the routine 3 times. Then the third circuit has 4 exercises.
Most of the exercise routines are 20 to 30 minutes long. I love that I can get in a good workout in a short amount of time and really see a difference in my body.
I will admit some of the exercises are a little tough or I have to alter them slightly. I hurt my back about 5 years ago and some of the exercises cause back discomfort. I either alter the exercise or do some other exercise instead.
Overall I have been impressed with Toned in 90 Days. My arms and legs have more muscle definition. I noticed my waist seemed slimmer when I put my hands on my hips. So I measured and happily discovered I had lost another half inch off my waist!
I haven't been eating as strictly as I should be. I have allowed myself to cheat and sneak more carbs back in or I probably would have even better results.
And then right after I finished Toned in 90 Days…
I got COVID!!!
After I recovered enough to exercise again, I didn't want to do too much too soon. I decided to try Female Fat Loss Extreme. I wish I had started with this program first and then did Toned in 90 Days second.
Female Fat Loss is very similar to Toned in 90 Days, but you do each exercise 20 seconds instead of 30 seconds. It feels like you barely get started and then it's time to switch to the next exercise.
I am very happy with Vince Sant and his V Shred programs. I have purchased Move (30 day program), Toned in 90 Days and Female Fat Loss Extreme (90 day program) which included Six-Pack Shred, The Booty Builder and Recipe Guide.
It is kind of fun to say I have a personal trainer and he is always available 24/7. Vince and I work out one on one four days a week, except he is on my iPad or iPhone, not in person. Still I have his undivided attention, making sure I get a good workout.
Now that I have a good variety of at home exercise programs, hopefully I can stick with it. I am getting older and don't shape up like I used to.
If you are just starting to workout or exercise, I would start with Female Fat Loss then move to Toned in 90 Days. Both of these programs have a gym workout version if you prefer to go to the gym.
Home Workouts for Men
Not to forget the men, Vince has you covered too. Check out Fat Loss Extreme for Him, Ripped in 90 Days, Clean Bulk Program and Big Arms Program. Men can also do Six-Pack Shred and Move Program.
I have done a few days of Move and this program has longer, more challenging routines. I definitely need to step up my game to keep up with Vince!
On a side note I found a neat journal on Amazon.com to help me stay on track with these fitness programs. It is called 30 Day, 60 Day & 90 Day Challenge Journal. Perfect for Female Fat Loss and Toned in 90 Days. It includes a list of other challenge ideas, so I may have to try a new challenge, like drinking more water.
Click on the Journal cover to check price on Amazon.